What Is KONTAKT?
KONTAKT, developed by Native Instruments, is a software sampler that has established itself as the go-to standard for creating high-quality sample libraries, especially for orchestral instruments. This powerful tool allows users to use pre-recorded audio within their digital audio workstation (DAW) to create virtual instruments as an Instrument Plug-In. While Native Instruments has expanded its KONTAKT-related software offerings, such as Komplete and Maschine, this article will concentrate on KONTAKT as it is the primary tool used by most of our users for sound production.
Why Do You Need It?
KONTAKT is a plugin that should be part of every composer and producer's toolkit. However, if you're unfamiliar with it, you may have seen it used in production tutorials without any explanation, or come across "Requires KONTAKT" on a store page. If you're new to music production, you may be wondering what it's used for. This post aims to clarify the purpose of KONTAKT and explain why it's a valuable addition to your toolset.
At Wrongtools, we create instruments for KONTAKT, so in order to use our instruments, you'll need the retail version of KONTAKT 6.4.2 or newer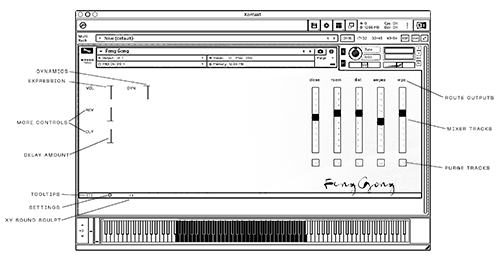 KONTAKT – Full version vs the free Player
What Is KONTAKT (Full version)?
KONTAKT (Full retail version) is a crucial plugin that should be part of every composer and producer's toolkit, as it serves as a hub for a vast range of virtual instruments. Not only that, but it also functions as a robust sampler and wave editor, making it a highly versatile tool for music production. Wrongtools Instruments are made for the "Full Version" aka the retail version of Kontakt.
What Is KONTAKT Player?
KONTAKT Player is the no-cost edition of KONTAKT, enabling users to utilize all of Native Instruments' sample-based instruments, as well as third-party sample libraries licensed by the company. While the name implies that it can only play sounds, the software does have some limitations. For instance, you cannot use it as a sampler to create new instruments, and any advanced functionalities are only available through a 15-minute demo.
In other words, the Wrongtools instruments are not compatible with the Free Player.
How Does KONTAKT Operate?
KONTAKT operates similarly to other sampler plugins. Rather than producing tones from an oscillator like a synthesizer, it employs pre-recorded audio to generate sounds. This allows users to create a range of patches, from simple drum kits to intricate symphony orchestras with numerous sounds and articulations.
Standalone vs plug-in
Although KONTAKT can be operated as a standalone application, it is typically employed as an audio instrument (or plug-in) inside a digital audio workstation (DAW) or sequencer. KONTAKT is compatible with most DAWs, including Cubase, Logic, and Pro Tools, as it supports the VST, AU, and AAX protocols. To utilize KONTAKT, it is loaded onto an instrument track in the DAW, followed by loading an instrument from a KONTAKT library into KONTAKT itself.
What is a KONTAKT Sample Library?
A KONTAKT library is an instrument specifically designed for Native Instruments' KONTAKT sampling platform. The advanced capabilities of the KONTAKT sampler enable it to reproduce virtually any type of instrument or sound using recorded audio files. As a result, KONTAKT libraries can be developed for an incredibly diverse range of sounds.
Numerous developers construct distinctive instruments for KONTAKT from scratch. You can expand your sound collection by purchasing sample libraries from these developers and incorporating them into your arsenal.
Why You Need KONTAKT
There are several reasons why KONTAKT is an essential tool for composers and producers. Firstly, it serves as the host platform for numerous sample-based instruments, allowing you to broaden your digital sound collection beyond the limited free offerings available.
KONTAKT is particularly critical for film, TV, and game composers. These industries are becoming increasingly competitive, with more and more musicians striving to make a name for themselves. While it's not everything, having access to high-quality sample libraries can provide you with a competitive advantage.
Even if you mainly produce electronic music, a good sampler is still necessary. Although there are various free sampler VSTs available, very few can match KONTAKT's power and versatility.
How Do You Get KONTAKT?
To obtain KONTAKT, you can buy it from the Native Instruments store, or you can purchase it as part of the Komplete bundles. After purchasing either KONTAKT or Komplete, you must install the Native Access application on your computer. After that, log in and follow the instructions to install it on your device.
https://www.native-instruments.com/en/products/komplete/samplers/kontakt-7/